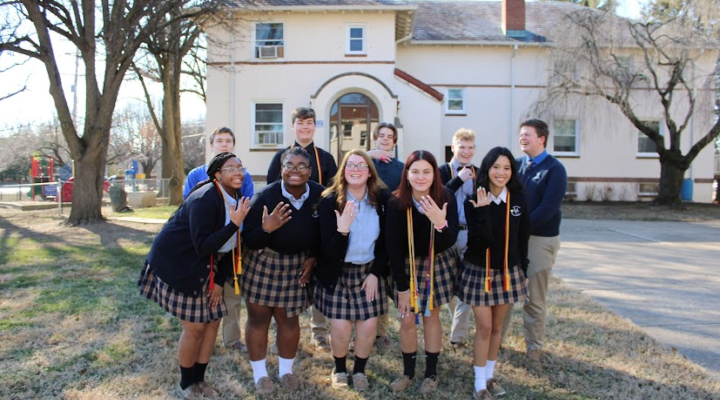 Student Life
Students at Our Lady of Mount Carmel School have many opportunities to explore interests, develop talents, and learn to be leaders. Throughout the school schedule and beyond the regular school day, students are encouraged to participate in activities that increase their awareness of themselves, enable then to become more sensitive to the needs of others, and teach life skills such as team work, cooperation, and appreciation of others.

As you explore the extra-curricular options that are available, imagine the confidence, caring, and school spirit that is generated when young people put their hearts and energy into these opportunities!
Athletics - The Our Lady of Mount Carmel School athletics program is open to middle school and high school students. With fifteen competitive programs across fall, winter, and spring sports, the OLMC cougars are consistently some of the strongest sports teams in Baltimore County. To learn more about our student-athletes please visit our athletics page.
Arts & Music - All students at OLMC are required to take arts & music classes which help each student to gain an appreciation for the arts. For students with an interest in acting, singing, or drama, the Mount Carmel players produces a musical each year. To learn more about our various classes and electives please visit the arts & music page.
Clubs & Activities - Our Lady of Mount Carmel School offers a wide variety of clubs and activities for each of our students to participate in throughout the school year. These extra curricular activities are designed to help students explore their budding interests, and pursue their passions. To learn more about the available opportunities please visit our clubs & activities page.
Social Events - Throughout the school year there are many social events and activities in which OLMC students participate. From dances to movie nights each opportunity provides students with a chance to interact socially, and develop life-long friendships. To learn more about the various events please visit our social events page.
Summer Programs - Each summer Our Lady of Mount Carmel is pleased to offer a variety of summer camps for students of all ages and interests. To learn more about our various opportunities available please visit our Summer Camps Page.
Positive School Environment
To foster a positive school environment where all students are educated in a safe and caring atmosphere, all Archdiocesan schools will follow established procedures for prevention and intervention for bullying, harassment or intimidation.
Positive Behavioral Intervention & Supports (PBIS) has been implemented in every Archdiocesan elementary and high school to enhance academic and social behavior outcomes for all students.