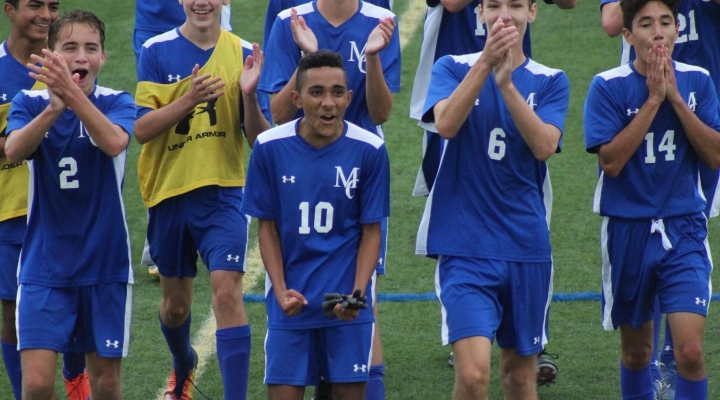 MIAA Champions
The drought has ended!

After 17 long years without a championship, the 2017 Men's Varsity Soccer Team finally made history, defeating Glenelg Country School in a 1-0 overtime thriller at Anne Arundel Community College on November 5th. The goal came from junior midfielder Jaime Reyes with just 1:03 remaining in the first overtime period. Senior forward Bryan Bravo had a shot blocked, which trickled conveniently to Reyes about 25 yards out. Reyes took a simple touch to his stronger right foot and was able to curl it around a pressuring defender and the fingertips of the laid out Glenelg goalkeeper.
Once the ball hit the back of the net, the Mount Carmel crowd at Anne Arundel Community College erupted in celebration. Reyes sprinted to the fan section along with his teammates to enjoy the moment with everyone who supported the team.
"I did it Thursday against Indian Creek," Reyes said mentioning how he scored a incredibly similar goal in the semifinal match-up. "I've been practicing that (shot) with my friends out in the field, and it worked, it worked. We worked really hard for this and I wouldn't have been able to do it without it without them."
On the year the Cougars finished with a record of 17-2-0 (W-L-D) with 66 goals for and only 9 against. It was the first championship victory since the turn of the century, as the men's team won back-to-back championships in 1999 and 2000.
"The goal came down to who wanted it more and that is what we were preaching in overtime and at halftime, who wants it more," said Coach Mark Concordia a graduate of the Class of 2009. "There is nothing that can replicate the feeling of that ball going in the net at a moment like that. As an alumni, and not winning a championship of my own, this was huge. I like to think I am (speaking) for all the alumni who have not won won in the last 17 years. It means a lot."
The team is only graduating three seniors in Colin Bonner (captain), Nicholas Rose, and Bryan Bravo. While their contributions to the soccer program will clearly be missed, the team is now looking forward to competing for another championship in 2018. "We are at at the top of the mountain now. The bar has been set, and everyone is going to be gunning for us. We will be ready. It would be something special to win back-to-back championships, but we know it is going to take a lot of work. We are excited for that challenge," Said Assistant Coach Grant Stefanowicz another graduate in the Class of 2011.