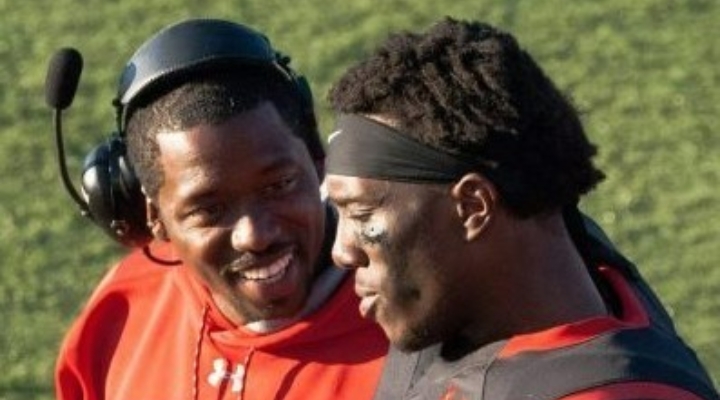 Our Lady of Mount Carmel School Appoints Devin Redd as Head Varsity Football Coach
For Immediate Release - April 28, 2021 - Essex, MD

Our Lady of Mount Carmel School is excited to announce the appointment of Mr. Devin Redd as the head varsity football coach. President Lawrence S. Callahan shares, "we welcome Coach Redd to a team of highly trained educators. Our expectation for Coach Redd is to continue the tradition of first class care, support, and education of our student athletes. While welcoming Coach Redd, we offer our deepest gratitude to Coach Jackson for his years of outstanding service."
Mr. Redd is a graduate of Cardinal Gibbons High School in Baltimore. He continued his playing career at East Los Angeles Community College where he was an All-American. After East Los Angeles, Mr. Redd completed his playing career at Southwest Baptist University, where he was also a member of the Alpha Chi Honors Society.
Mr. Redd has spent his life coaching football at all levels, most recently serving as the Head Coach for the Gridiron Football League's St. Louis Stampede. Prior to his time in St. Louis, Devin Redd spent multiple years coaching at the college level with the University of Toledo, Seton Hill, and eventually, Rutgers University where he spent two seasons coaching Running Backs and as an Offensive Analyst. Additionally, he spent time working in the NFL under Head Coach Brian Flores with the Miami Dolphins and Kevin Stefanski with the Cleveland Browns.
Before his transition to NCAA Football, Mr. Redd worked locally with St. Frances Academy, Calvert Hall College, as well as multiple organizations assisting Baltimore high school athletes' college recruiting efforts. During his time as a coach, Mr. Redd has worked with a number of very successful professionals such as Adrian Amos, Minkah Fitzpatrick, Lawrence Cager, and Cyrus Jones.
Our Lady of Mount Carmel Athletic Director Alex Brylske stated, "Coach Redd brings a great deal of football knowledge and experience to our program, but most importantly, he is a man grounded in his faith. When building young men, the most important thing a coach can impart is the character with which players will build successful lives."
The search for a football coach began with over 55 candidates. "Arriving at such a highly qualified candidate is the product of a significant amount of work by our dedicated faculty and staff. I would like to personally thank our President, Mr. Lawrence S. Callahan, our Principal, Mr. Chris Ashby, and our Asst. Athletic Directors Mike Naunton and Patty Medina. Our screening committee also spent many hours vetting candidates and a significant amount of gratitude is owed to Coach Quinn (Varsity Men's Basketball & STARR Program Coordinator), Coach Long (Varsity Women's Basketball), Coach Gartrell (Varsity Volleyball & Science Department Chair), and Senora Leynes (Spanish Department Chair)," stated Mr. Brylske.