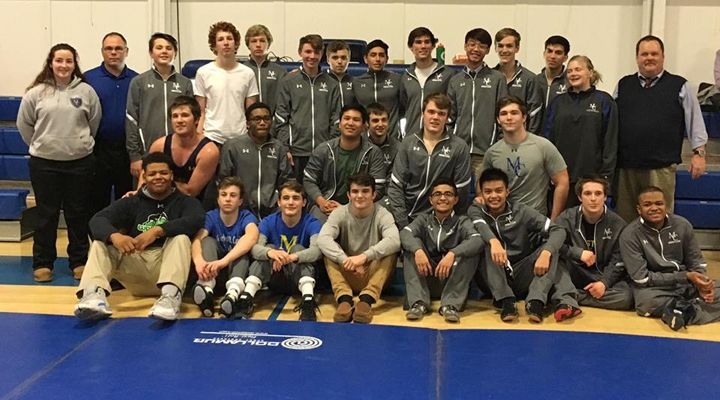 Varsity Wrestling Clinches Championship
On January 26, 2017, the Mount Carmel Cougars Varsity Wrestling team captured their second consecutive MIAA B conference championship with a 72-6 victory over St. Mary's. The Cougars, who are currently 15-0 overall and 7-0 in the conference, have won 32 consecutive matches dating back to the final three matches of the 2014-2015 season. In addition to repeating as champions, this season has seen the Cougars capture the title at the Kent County Tournament, as well as earn their first victory over an A conference team with a 37-36 defeat over Calvert Hall.
The Cougars are led by sophomore Tyler Trout (25-0), who last winter was the first Cougar to earn a trip to nationals. Tyler's brother, Billy, and heavyweight Jerold Gaither are also are also undefeated on the mat this season. The Cougar starting lineup is rounded out by seniors Chris Ashby, Brandon Holman, Jordan Jackson, Ben Kovalk, and Jarret McMillion. Mount Carmel coach Tim Schoen says he is most proud of the fact that "a school our size [approximately 100 boys] has a wrestling team of 24 who show up every day to work hard and push each other."