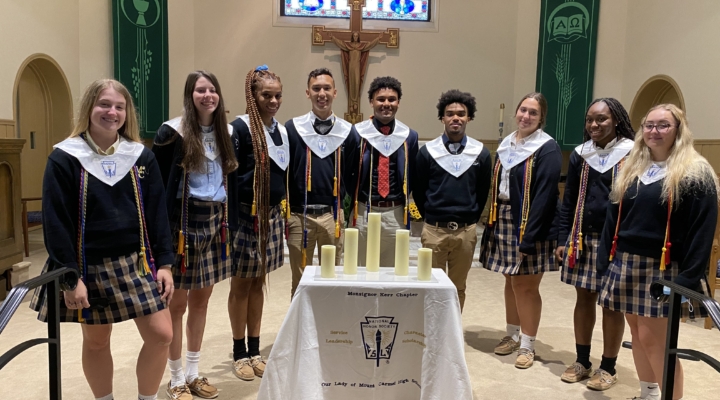 Honor Societies
National Honor Society
Our Lady of Mount Carmel School is proud to be a member institution of the National Honors Society, the nation's premier organization established to recognize outstanding high school students. More than just making the honor roll, N.H.S. serves to recognize those who have demonstrated excellence in the areas of scholarship, service, leadership, and character.
Spanish Honor Society
Named after Pope Francis, Our Lady of Mount Carmel School formed the Papa Francisco Chapter of Sociedad Honoraria Hispanica (Spanish Honors Society). This new chapter was instituted on campus during the 2016-2017 academic year, and hit the ground running with an inductee class of 17 students from the high school. The mission of this society is to recognize high school achievement in Spanish and Portuguese and promote interest in Hispanic and Luso-Brazilian studies. Click here to see an example of the fun activities the Spanish Honor Society hosts!
English Honor Society
Since its start about 2 years, the English Honor Society has continued to grow and flourish. Our students who excelled academically in their English and Language Arts classes are inducted each year and participate in service and extra-curricular English activities though the year. Click here to see our English Honor Society in action!
Math Honor Society
The Math Honor Society has only been around for a little over a year; however, it has grow substantially. Students who excel in their Math courses are inducted to this honor society at the start of each year.